Simple to Specify

Easy to Order

Rapid to Assemble
Pedestrian Barriers
A rapid assembly modular barrier system Minimises design & fabrication times Compatible with the standard Interclamp range including Assist Available off the shelf for rapid delivery & easy to transport No welding or bending on-site required Reduced climbing potential due to the absence of a middle rail Can be delivered to site with pre-assembled uprights, ready to install
Durable galvanised finish as standard for use in demanding environments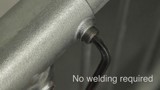 The Interclamp Galvanised Pedestrian Barrier is a modular safety system designed to integrate fully with the Interclamp handrail system and provide rapid construction of pedestrian control structures. The galvanised barrier offers strength, durability and versatility enabling it to be used in a wide variety of applications. Panels can be shipped directly to site as a complete package by selecting the relevant posts for the installation.
Top and bottom handrails are 1 ½" nominal bore (48.3mm od) galvanised tube with 12mm diameter solid vertical bars. To improve visibility for drivers through the barriers, the bars are staggered. Following fabrication, the barriers are hot-dipped galvanised in accordance with BS EN ISO 1461:2009. The galvanised barriers meet the infill requirements of Sections 2.4.1 and 2.4.2 of BS7818:1995 (Pedestrian Restraint Systems in Metal).
3 sizes are available, 900mm wide by 1000mm high, 1500mm by 1000mm heigh and 1800mm wide by 1000mm high for erection with D48 size Interclamp handrail fittings. Galvanised barriers can also be quickly custom made with different dimensions to suit individual requirements, please contact us. Please note that some illustrations show Pedestrian Barriers with optional powder coating (available at extra cost in a wide range of RAL & BS standards).
We have a full range of barrier panel posts that integrate with the Interclamp Barrier Panel. The posts come ready to use fitted with either the 232 Heavy Duty Base Fitting or the 242 Heavy Duty Base with Toe Board Fixing as pictured below.
8020 Barrier Posts (With Kickplate Attachment)