Simple to Specify

Easy to Order

Rapid to Assemble
Interclamp GRP Handrail Fittings & Tube
For Demanding Environments GRADE 316 STAINLESS STEEL FASTENERS NON-CORRODING SO MINIMAL MAINTENANCE UV-RESISTANT FOR LONG SERVICE LOW ELECTRICAL CONDUCTIVITY FOR PROXIMITY TO ELECTRICAL INSTALLATIONS LIGHTWEIGHT FOR TRANSPORT NOT COLD-TO-THE-TOUCH FOR EXTREME TEMPERATURES FIRE RETARDANT AND RESISTS MOST CHEMICALS SAFETY YELLOW OR GREY SO NO NEED FOR PAINTING OR COATING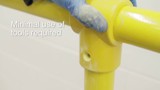 The Interclamp GRP range is designed for both more demanding applications and general handrailing (as a quick and easy chip-resistant alternative to powder coated structures). The robust, impact-resistant material will naturally not corrode, is non-sparking and can cope with a very wide range of chemicals, so it is frequently found in water treatment facilities, chemical processing plants, marine and offshore applications and specialist manufacturing sites, where more aggressive environments may exist. Our GRP range benefits from low electrical conductivity, so is typically suited to handrails and guardrails situated close to electrical installations including railways. Low thermal conductivity is also an integral feature, avoiding the tube and fittings from being "cold to the touch" in extreme temperatures. The Interclamp GRP range is fire resistant and has been tested in Great Britain and classified as BS 476: Part 7 : 1997 Class 2 by a UKAS accredited laboratory. For further information about the test or other specifications, please contact us.
GRP's light weight when compared with steel structures means that both transport and handling on site are easier. As with all Interclamp solutions, welding is avoided and the minimum of tools is required for fast erection. 
Please contact us for more details of this exciting addition to the Interclamp range.
Please note that fittings require assembly.
Always ensure that the appropriate personal protective equipment (PPE) is used when cutting, drilling or otherwise working with GRP.