Simple to Specify

Easy to Order

Rapid to Assemble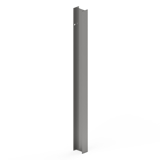 1500mm Dig In Post - 127x76 RSJ
RSJ dig in crash barrier post - 1500mm length, galvanised for durability. For off-highway usage in locations such as private roads, industrial sites, factories and carparks.
RSJ (Rolled Steel Joist) also known as I-beam and H-beam due to the cross-section shape offers resistance to bending and shearing in the event of an impact.
These are a cost effective and easy to install solution for mounting crash barrier beams.
The dig in Armco type crash barrier posts are available in 120mm, 1500mm and 1800mm lengths.
Bolt down crash barrier posts are also available for where digging is not practical or a concrete slab exists, useful for locations such as factories and warehouses.