Simple to Specify

Easy to Order

Rapid to Assemble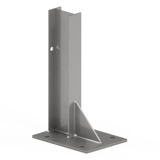 610mm Bolt Down Post - 127x76 RSJ
RSJ bolt down crash barrier post - 610mm length, galvanised for durability. For off-highway usage in locations such as private roads, industrial sites, factories and carparks.
RSJ (Rolled Steel Joist) also known as I-beam and H-beam due to the cross-section shape offers resistance to bending and shearing in the event of an impact.
These are a cost effective and easy to install solution for mounting crash barrier beams.
The bolt down crash barrier posts are also available in 560mm, 610mm, 760mm and 1100mm heights.