Simple to Specify

Easy to Order

Rapid to Assemble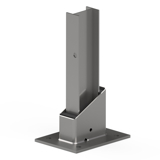 560mm Bolt Down Shock Absorbing Post - 127x76 RSJ
The 560mm bolt down shock absorbing crash barrier post has the RSJ post mounted between shock absorbing rubbers. For off-highway usage in locations such as private roads, industrial sites, factories and carparks.
The shock absorbing rubbers allow the crash barrier post to deflect slightly in the event of an impact. This deflection reduces the risk of the post bending or shearing in the event of a collision, reducing the likelihood of needing to change the post and vehicle damage.
The bolt down shock absorbing posts are available in 560mm, 620mm and 760mm heights.