Simple to Specify

Easy to Order

Rapid to Assemble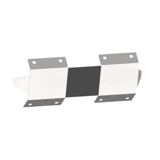 Flexible Corner
In addition to the fixed 90 degree corner and 135 degree corner, the flexible corner offers greater versatility for connecting Armco type crash barriers.
The flexible corner can be carefully bent to accomodate corners of differing angles.
For off-highway usage in locations such as private roads, industrial sites, factories and carparks.