Simple to Specify

Easy to Order

Rapid to Assemble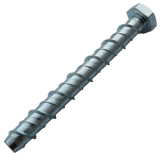 Ankerbolt/Thunderbolt
A self tapping anchor which cuts its own thread in the base material. Suitable for use in solid concrete, hollow concrete, bricks, dense blocks and most natural stone.
For more information, please Contact Us.
Image shown is a generic product. Final ordered product may vary.
Do not perform any pre-drilling, tube cutting, casting uprights or any other dimensionally critical processes prior to receiving fittings.