Simple to Specify

Easy to Order

Rapid to Assemble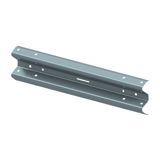 Crash Barrier Beam 1.6m Effective
Crash barrier beam for off-highway use, 1.6m effective length. Constructed from 3.0mm galvanised steel for durability.
Ideal for protecting pedestrians, buildings and other assets from impact on private roads, industrial sites, factories and carparks.
The beams can be mounted to posts at 1.6m centres.
Also available as 3.2m lengths, click here.